A TASTE OF FOREARM TRAINING
Lets look at moves that activate the forearms.
Barbell wrist curls
- placing your arms on a bench palms up holding a barbell lover and raise by bending at the wrist and curling the bar back up.
Dumbbell wrist curls
- these are done with a palms down grip and the movement is a curl like above. Simply lower and raise the weight.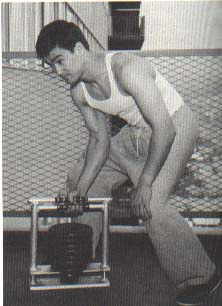 Bruce lee advocated a custom made
grip machine
were you raise and lower the weight with your fingers increasing grip and forearm strength. You can get these online.
The
wrist roller
- the device to the left activates the forearms slightly differently. You attach a weight onto the pencil like bar which rests on the circular disk on the bottom. Then you can either hold the handles at arms length and roll the weight to the floor or stand on a step to get extra reach. Sylvester Stallone likes this one.
Wind the weight down and then back up feel the burn!!!
These are a few exercises you can try out but do your research you would be surprised how a simple change in angle grip etc can focus more on the forearms.