Total Gym have allowed me to give you all the information you need on their products.
ABOUT TOTAL GYM
Total gym is the worlds leading privately-held manufacturer of functional and bodyweight training equipment.
Their products are used in 14,000 physical therapy clinics, athletic training facilities, hospitals, universities , professional sports teams and health clubs.
Tom Campanaro, the founder of Total Gym, joined the ranks of "
Gym Class: Heroes of Fitness
," when he sat down with
Motionsoft's
Hossein Noshirvani & Leigh Kessler for their weekly podcast to discuss his journey in making Total Gym a recognized name in fitness.
The driving force behind the brand that's now in over 14,000 physical therapy clinics, health clubs, hospitals and fitness centers as well as in more than 4 million homes world-wide, Tom tells how he came up with the concept of Total Gym and shares some funny stories of how he developed Total Gym into the well-known brand it is today.
Discover
how dentistry and sex therapy actually played a part in building the brand. And find out what advice Tom has for entrepreneurs embarking on their own path.
Their new Elevation line:
Total Gym was founded by Tom Campanaro almost 40 years ago, making the company that first revolutionized functional body weight training older than its current President. But there's no better person suited to take Total Gym into the next generation than Jesse Campanaro.
Making fitness a family affair has been the norm in the Campanaro household. As a kid, Jesse began helping to assemble units in their own garage, then graduated to selling units and now he's taken the reigns and is leading the company he grew up with into the future.
Recently, Jesse spoke with
Motionsoft's
Hossein Noshirvani & Leigh Kessler for their weekly podcast,
"Gym Class: Heroes of Fitness,"
which features unscripted interviews with the pioneers and innovators behind the best-known names in the fitness world.
Hear
what Jesse had to say about growing up with the iconic fitness brand, where he see's the fitness industry heading and how he plans to take Total Gym along for the ride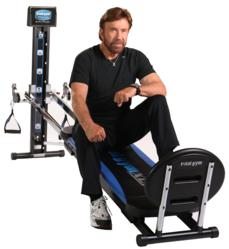 Chuck Norris has said that he uses Total gym and has done for 30 + years!!! With a high demand to stay in shape the Total Gym is Chuks number one home fitness machine. Having starred in Stallones Expendables 2 he used the Total Gym to maintain top fitness form.
For even more you can visit them at:
or