I have been given the opportunity to take a look and review Simply Supplements Glucosamine.
What is Glucosamine?
Glucosamine is naturally produced by the body to support the growth of healthy joint tissue. As we age, it is common for our body's ability to produce and store Glucosamine to reduce. Excess stress and injury can also cause Glucosamine levels to decline. Therefore, many people find high quality Glucosamine Sulphate tablets to complement a healthy diet and support the body's natural supply of Glucosamine.
Why choose Simply Supplements?
At Simply Supplements all our Glucosamine supplements provide an impressive 75% Glucosamine, compared to 50% in many industry standard products. These best selling tablets have been developed to provide a therapeutic dose of Glucosamine to help maintain the smooth working of the joints. As a result, tens of thousands of customers choose to take this safe, effective and inexpensive formula on a daily basis.
Service
The product was order and shipped immediately and arrived promptly before the suggested arrival date which was great.
I had no trouble ordering and the customer service was top notch.
Product info/description.
Product Information Glucosamine occurs naturally in the body where it plays a role in the smooth working of the joints and helps maintain connective tissues.
Important Information If you are taking any prescription medication, you have a medical condition or you have specific concerns about the suitability of our products, always consult your GP or Pharmacist prior to taking supplements. Do not exceed stated dose. Store in a cool dry place. Keep away from children at all times. Do not use if seal is broken. Pregnant or lactating women should consult a Doctor before using this product. Allergy Advice: Contains an ingredient derived from shellfish. Food Supplement: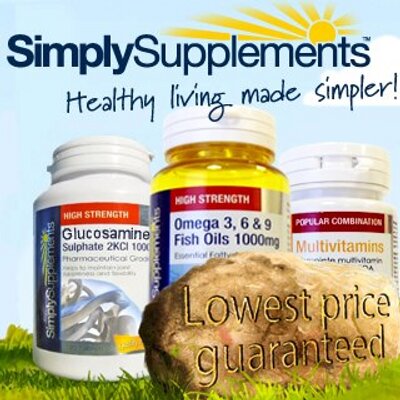 This product should not be used as a substitute for a varied diet. Suggested Daily Intake Take one to two tablets daily as a food supplement or as directed by a healthcare professional. Ingredients - Each Tablet Contains: Glucosamine Sulphate 2KCl 1000mg. Other Ingredients: Microcrystalline Cellulose, Magnesium Stearate.
AutoDespatch SAVE 10% and get FREE P&P on all repeat orders by having your favourite supplements conveniently scheduled and delivered automatically with our unique AutoDespatch system. PriceMatch Guarantee! If you buy from us and then see the same product cheaper elsewhere we will refund the difference plus 10%! Same Day Despatch We will ensure your order is despatched on the day of receipt (when placed before 12.30pm) and that all orders placed after 12.30pm are despatched on the next working day. All sent 1st class!
They have a wide range of products to choose from I would defiantly recommend taking a look: